Concierge-Level Client Service
While it may be enough to provide you with a comprehensive integrated investment plan, we feel the need to go one step further.  We have developed a Concierge-Level Client Service Program that we believe is unique in our industry.  Our program includes:
Annual Comprehensive Financial Review
Investment and estate plans are reviewed and updated

All plan document, profiles and data are reviewed and updated annually

Overall investment performance is measured and compared to both their benchmark indexes and the goals of your plan

Recommendations from attorneys, accountants or other financial providers are incorporated into your plan
Quarterly Performance R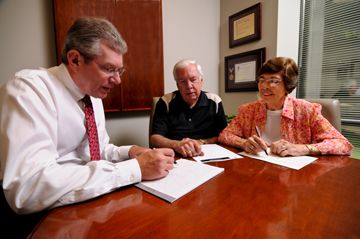 eview
Manager and portfolio performance is reviewed

Quarterly performance reports are available

Any changes or updates to your current situation are discussed
Monthly Contacts
Contact is made once a month in non-review months
Command Asset Program1                                           
All basic account fees waived

Unlimited free check writing and checks

Debit and/or credit cards                          

Access to all accounts on-line

Enchanced monthly statements

Enhanced annual summary & tax packages
Online Account Access
Online convenience to help you monitor your investments
Periodic Group Newsletter or Email
Newsletter - articles and commentary regarding the current investment environment and marketplace

E-mail - Executive summary / bullet points highlighting the current investment environment and marketplace
Annual Client Appreciation Event
Platinum level clients will be invited to our annual client appreciation event
Annual "Accountant-Ready" Tax Packages2
1099s, 5500s, K1s, etc. are prepared and compiled with a summary and details of any gains or losses taken during the year

Help reduce your and your accountant's annual tax preparation workload
Year End Capital Gains Tax Adjustments2
We attempt to minimize your annual capital gains taxes - both within your portfolio and from other investments - by realizing necessary losses (if any) at the end of each year to offset any realized gains

We can coordinate this effort with you and your accountant so that all of your investments are working in tandem
1 Banking services are offered through banking affiliates of Wells Fargo Advisors Financial Network.
2 Veesart Financial and Wells Fargo Advisors Financial Network are not legal or tax advisors.